Here is our March kit for
http://www.PersonalScrapper.com
This was my review for this month's kit:
Ok - here we go! Here is my personal review of this kit.
We are using the ScrapWorks Florabella line that just debuted at Winter CHA. The paper and rub ons have arrived fresh from the printer! We will be one of the first ones to use this paper! Yay! I just have to say that Scrapworks has awesome customer service! We have doubled up on the sampler sheet of paper and then there are 8 other patterned papers. They are all double sided paper. Most of the backs show a very distressed sold color.

Here was my scrapboooking process this month:
After I got the kit together, I went through some of my pictures from 2006 to see what would go with the papers. It wasn't too hard to find pictures that went: baby, grandpa, family, trophies, friends and even a PersonalScrapper crop.
I decided to start with pictures from the PersonalScrapper crop! This is the crop we had last summer. It was a very fun crop and a few of our members were able to join us! I decided to do a block style on one of the patterned pieces of paper (its actually called florabella! and it is one of my favorites from this kit). I then mounted it on the blue cardstock. I added to it with the American Craft sticker letters. I cut one of the bling flowers apart to put rhinestones on the C for crop. I handcut a few flowers from the paper and added a few bling flowers to it. With a few flowers, rubons and some distress ink the layout was complete!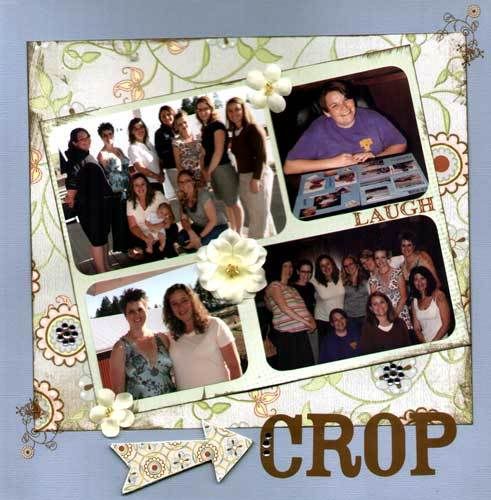 Next I worked on one of Ezra at 2 months. Kimberly took these cute photos of him! I had them printed at costco in wallet size and it makes it fun to work with. I used my very favorite sheet in this kit (sketchbook). For the title I cut apart the rhinestones (again!) and made the word "MY" and then used the stickers for boy. Next I covered the arrows with the back of one of the papers. I sanded the edges to give a white look. I also added a few rubons on this page. It was pretty quick and simple but what made it easy was the pretty paper, easy embellishments and nice photos.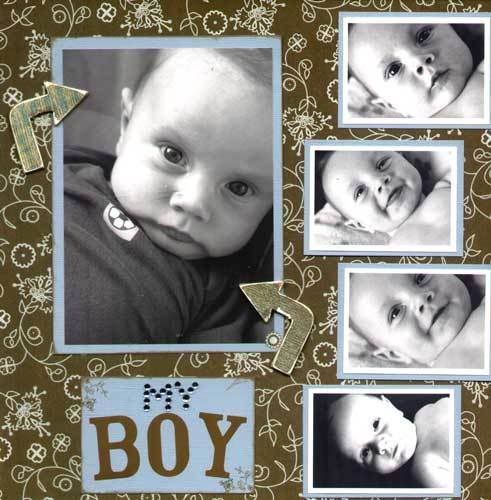 I have been wanting to do a page about Andrew and his trophies! These pictures have a yellow tint to them so I knew i wanted to use some yellow. I double mounted the photos in yellow, then the dark red. I used the sampler paper on the brown cardstock for the back of the photos. I cut a strip off the sampler sheet to place behind the word proud. I also decided to line it with the ric rac (although you can barely see it!). I double mounted the word PROUD! and just cut them into rectangles with my paper trimmer. I covered the arrow with paper and distressed it. I journaled around the photo about how much Andrew loves his trophies! The layout is ok but Andrew loved it so that is really what matters!
Last I worked on a layout of my boys and their cousins from New Year's. I had a hard time keeping this one simple. I kept wanting to add more but just left it! I made a frame for the photo and included flowers & brads. I also rubbed on the word family right over the letter F. After covering the arrow with paper, i wrapped 3 ribbons around it. It was quick and simple.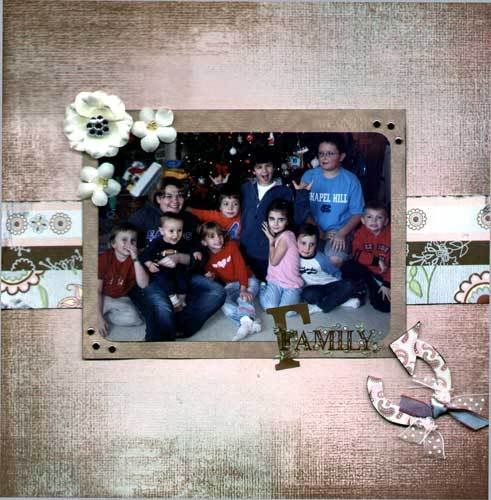 If you really made it this far - Yay!! Please leave a comment on here because I am curious who really reads this and is interested in me doing this again :)